Feeling like your life is on pause
Many people going through fertility treatments see their hobbies, passions and social lives fall away. Between the physical and emotional toll of treatments, and the fact that others in your life seem to be moving onto new life stages, you might find yourself isolated and stuck. It can be hard to find the energy or desire to get out there and do the things you used to do, and you can feel like you're losing yourself.
It can also be difficult to make plans when going through fertility treatments. If you don't know when your next treatment will be, and if it will work, you might hesitate to book a vacation or start a new job.
In addition to logistical challenges, there's also the emotional experience of feeling stuck or "on pause" in your life. As others move forward with life milestones (including having children), you might feel like your life isn't progressing or moving forward until you have a baby.
Having children might be something you have looked forward to through your entire life, and is something that's at the core of your life plan. Though it can still be beneficial to acknowledge that life consists of many layers and dimensions. Putting all other activities and plans on hold can create a vicious cycle: you don't yet have a child, and you're missing out on other things in life. You can completely lose your sense of direction and identity.
Some people feel that because infertility is so painful, if they let themselves feel joyful, it takes away from their longing or it means they're not as committed. But remember: 
Feeling happy, at peace or energetic does not take away the fact that you're struggling. We're just capable of feeling many things at the same time.
Here's what you can do:
Finding things that bring you joy and meaning can be incredibly helpful - from small everyday moments to big events and vacations.
Spend some time thinking or writing about the actions and activities that make you feel good. Think about things like:
Hobbies you enjoy
Events you like to attend
People you like to spend time with
Trips you'd like to take
Local activities you like to do or want to try
Physical activities and sports you enjoy
Restaurants you'd like to try
Items you'd like to buy
Self-care activities that help you feel good
Put together an action plan. What is something you will do today, something you'll do in the next few weeks, and something you'll plan for in the future. Not only does doing these things bring us joy, but planning for them and looking forward to them can give us a boost too.
In life, plans change all the time. Let yourself make plans for today, tomorrow, and even months down the line. If you or your partner gets pregnant, you can figure that out then. But blocking yourself from doing things you enjoy because of a "what if" can keep you from enjoying your life. You deserve to experience all the interests and excitements you can think of, so find things you can do today to remind you of all that life has to offer.
---
Try these tools in the Tilly app: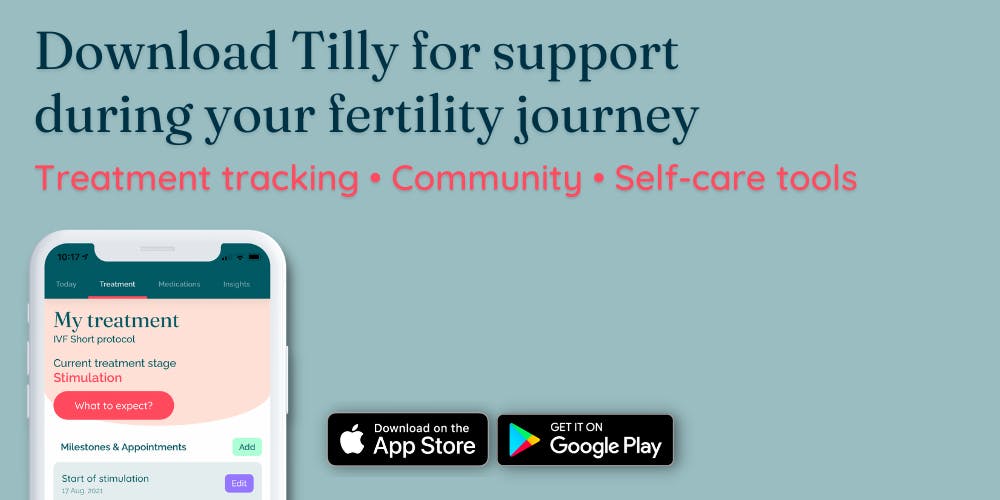 ---
About the author
Maya Maria Brown, M.A., is an infertility mental health expert. She has a master's in Counseling Psychology, and has worked with individuals and couples on infertility and relationships. She also has personal experience with infertility and is currently in treatment.
A mental health app for your fertility journey
Evidence-based self-care tools and facts. Supportive community. Treatment tracking.